At the beginning of the school year, I never can get overt how many kids come into class not knowing their personal information! Lots of time they only know some of their info like Mom's first name or the name of their street . But knowing some information and not all is Really. Not. Good. Enough. Seriously,  learning all parts of personal information is an essential life skill for any kid.
For sure, our personal information defines who we are; where we live, where we go to school and how our family and friends can find us to text, talk or visit. This info helps us communicate with other people and it can help keep us safe in an emergency.
So you know teaching kids how to share and write their complete personal information is a super important life skill for all kids and one that's super easy to teach.
And when we teach kids to memorize their personal information it's critical that we teach them who they can share it with and who they can't.  IT'S NEVER OKAY FOR KIDS TO SHARE PERSONAL INFORMATION WITH STRANGERS, ONLINE OR ON ANY FORM OF SOCIAL MEDIA!

WHAT THEY NEED TO KNOW
Elementary Kids & Some Kids with Special Needs
First Name, Last Name, Middle Initial
Date of Birth: Month, Day & Year
Address: House or Building Number, Street Name, City, State & Zip Code
Parents' Full Names
Parents' Phone Numbers
School Name
Teacher's Name
Grade
Class
Room Number
Older Kids & Some Kids with Special Needs
All the information above, PLUS…
Their Phone Number
School Address
School Phone Number
I use this Editable Personal Information Form.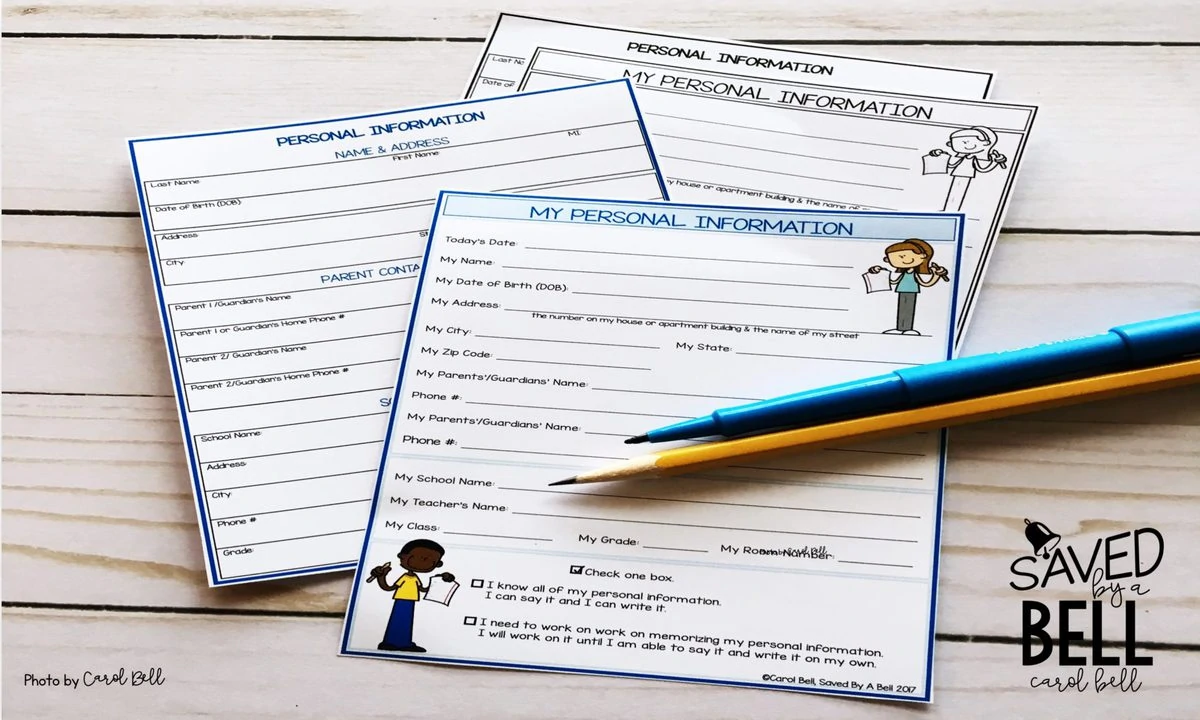 6 BEST WAYS TO TEACH PERSONAL INFORMATION
For some kids, learning their personal information will be an easy exercise in simple memorization, a piece of cake! But for others, not so much.
And for kids who struggle with memorization and retention try these strategies:
Break the Task Down into smaller steps
Provide Visuals like laminated cards on student desks
Provide ID Cards that kids can carry in their pocket or wallet
Practice Rote Learning techniques: Write and Re-write, Say & Repeat, Review & Review
Have a Conversation: What city do you live in?
Try Meaningful Learning Techniques: Take your kids on a community walk; find house numbers and street signs with street names, discuss your city and state & why we need a zip code.
Click HERE, to get Free Personal Information Anchor Charts for your kids!
If you need some Editable Personal Information Forms or ID CARDS check out these Ready to Go! options.
Editable Personal Information Worksheets
Editable Class Forms and Student ID Cards
What other strategies or techniques do you have for teaching students their personal information? I'd love to hear from you!
Carol:)